il concerto degli Oops e dei Minkios programmato per il giovedì 17 febbraio in zona bandita è stato spostato al SOUNDBLAST a Marghera, in via della Pila (di fianco al Pop Corn Club). Al post degli Oops c'è L'Erasmus Urban Party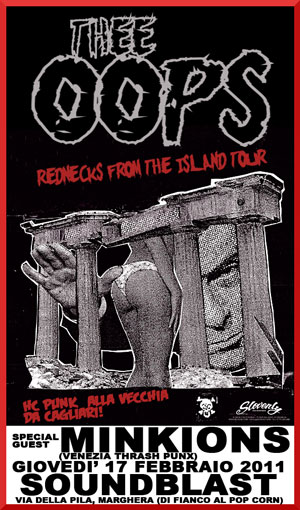 per la prima volta a Marghera gli autori di hit come "death to Brunetta" e "Don't touch Tartaglia"!!
THE OOPS!
PUNK HC alla vecchia da Cagliari con membri di Rippers, Two-bit desperados e Love Boat: garage punk meets hc!
Il sound è pura violenza stile primo punk hc americano (A.O.D, Minor Threat, Bad Brains, Red Cross…)
mixato con l' attitudine rock n roll-senza-futuro che ha reso Cagliari e le sue band famose nel mondo. yeah!
http://www.myspace.com/theeoops
aprono le danze
MINKIONS
Da Venezia un mix letale di thrash metal e hardcore punk suonato coi controcazzi!!
per amanti di Cryptic Slaughter, Accused, Wehrmacht e D.R.I
http://www.myspace.com/minkions
prima e dopo musica panc con i dj della crew ignoranza
tutto questo maledetto rock n roll si terrà al
SOUNDBLAST
via della Pila (di fianco al POP CORN), Marghera (ve)
GIOVEDI' 17 FEBBRAIO, H. 10.30
ingresso 5€ con consumazione
il soundblast è un locale arci, ma se non avete la tessera (o non volete farla) il gestore è un grande e vi farà firmare un foglio che vale come tessera solo per quella sera.
tutto in regola, è un cosa che tutti i locali arci potrebbero fare, ma che solo pochi fanno.
http://www.youtube.com/watch?v=8Ff0O2AKBGk